General Administration of China Customs (GACC) organised and hosted the "Connectivity and Win-Win Development Forum for Heads of Customs along the Belt and Road" in Xi'an, Sha'anxi Province, China on 27 and 28 May 2015. The event was attended by more than 60 countries, international organisations, regional institutions and business representatives. It started with welcoming address by Mr. YU Guangzhou, the Minister of China Customs, and followed by keynote speech by Mr. Kunio Mikuriya, the Secretary General of World Customs Organisation (WCO), and speeches by few other dignitaries.
The objectives of this initiative were to promote the connectivity of Asian, European and African continents and also their adjacent seas, as well as to establish and strengthen partnerships among the countries along the Belt and Road.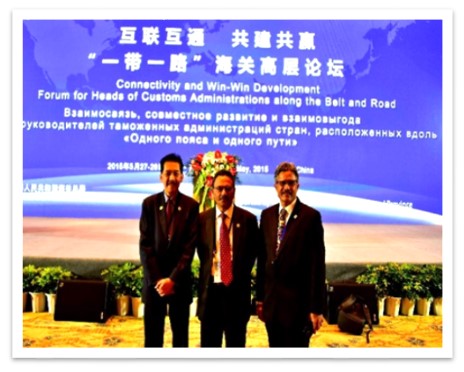 Three forums ran concurrently and Dato' Sri Khazali Ahmad, the Director General of Royal Malaysian Customs Department, moderated the Sub-Forum I with theme "Connectivity- New Opportunity for Regional Development". Amongst the speakers for Sub-Forum I were Mr. Giorgi Tabuashvili, the Deputy Minister of Georgian Revenue Service; Mr. Yergozhin Daulet, the President of Kazakhstan Customs; Mr. Clement Cheung, the Commissioner of Hong Kong Customs; Ms. Natasha Radeska Krstevska, the Director General of Customs Administration of the former Yugoslav Republic of Macedonia; and Mr. Osman Nuri Beyhan, the Deputy Director General for EU & External Relations of Turkish Customs. Sub-Forum II on "Connectivity - New Orientations of Customs Reforms" were participated by representatives from French Customs; Hungarian Customs, Korean Customs Services; Malaysian Customs; Mongolian Customs; Russian Customs and OECD.
Prior to the closing of the event on the second day, all moderators presented their summary of the Sub-Forum and recommendations. The event ended with closing address by Mr. SUN Yibiao, the Vice-Minister of China Customs.